by Luisa Low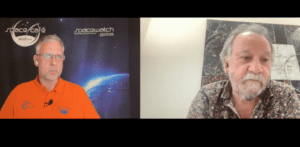 During this week's SpaceCafé, SpaceWatch.Global publisher Torsten Kriening spoke with Jean-Jacques Tortora, Director of the European Space Policy Institute (ESPI) in Vienna.
Jean-Jacques was previously the Secretary-General of the ASD Eurospace, United Space Attache' for the French Embassy and Industrial Policy Manager at the Centre National d'Etudes Spatiales. At (ESPI), Jean-Jacques works to inform European decision-makers on mid-to-long-term issues and opportunities relevant to Europe's space activities, with the organisation acting as an independent platform for developing positions and strategies.
This week, he and Torsten discuss the geopolitics of space and what's at stake for Europe as space becomes an increasingly competitive and politicised arena.
Three key issues are defining Europe's space footprint
According to Jean-Jacques, Europe is presently navigating three critical space issues:
business competition,
legal and policy matters, and
geo-political tensions.
To say that space – as an industry – is ramping up is to state the obvious, with the current state of affairs not dissimilar to a gold rush.
Instead now it's a race to who can carve up the constellations – a space rush – where fortunes will be made, lost, and long-standing space nations and incumbents will butt heads with up-starts in a territorial battle for the sky.
Greater competition is putting pressure on space resources – once seen as endless with infinite opportunity for exploitation – as well as pressure on governments to satisfy the critical mass of industrial activity in Europe, which has largely driven by geostationary satellites.
"While our legal framework is actually inherited from ancient times, where where space was considered as being able to provide unlimited resources – now we know that these resources are not unlimited."
Until this point, Europe has done well to broadly engage other governments and regions, but with increasingly tense international relations, this long-standing approach may change, according to Jean-Jacques.
"Europe has been very good at collaborating with everybody – with the United States, Russia China, but now in a more tense geopolitical environment, we might have to reconsider our our strategy."
Ultimately, Europe's continuing success in space will largely depend on what it does now – and these issues may very well trigger a trip back to the drawing board for Europe's space policy and a reinterpretation of the Outer Space Treaty.
"This interpretation will be quite important and quite critical, since we cannot rely on any kind of jurisprudence to arbitrate the cases that might happen in the future, because we have no authority and we will not not have one."
Cooperation threatened by individual legal interpretation
The rush to space is seeing an increasing number of countries draft independent space policies to promote their national interests. So, where does this leave the sector, particularly in a region like Europe, which over the centuries has evolved from disparate, warring fiefdoms to a unified broad church?
"This movement that we observed – where more and more countries are now developing their national space policies –  is a trend that will continue."

"Now, the problem and the risks that we have is inconsistency. And the question is the way forward should if we continue along this trend – if we continue having individual countries coming with their interpretation of the treaties and setting their rules, which they believe are the best for their interests or their companies, then we might face a risk of inconsistency."

"What is the way forward and should we continue in this way? Because, actually, two interpretations are not exactly the same."
Although European nations are increasingly developing and interpreting their own space policy, Jean-Jacques believes the region – with its almost 80 year old tradition of relatively peaceful collaboration – could lead in developing a broad consensus.
"I think that we we should anticipate this and try to really define a way to build up a consensus."

"I think that as far as international collaboration is concerned, the European Space Agency certainly has a role to play because it is really the core of the international cooperations of Europe with the rest of the world."
To listen to Jean-Jacques Tortora's insights into space diplomacy and policy, you can watch the full program here
Space Café is broadcast live Tuesday at 4 pm CEST. To subscribe and get the latest on the space industry from world-leading experts visit – click here.
Luisa Low is a freelance journalist and media adviser from Sydney, Australia. She currently manages Media and Public Relations for the University of Sydney's Faculty of Engineering.