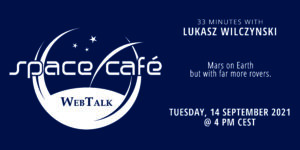 This Space Café WebTalk will feature Lukasz Wilczynski, the founder of European Space Foundation and the organizer of the European Rover Challenge, in conversation with Torsten Kriening, publisher of SpaceWatch.Global.
"Mars on Earth but with far more rovers. "
Lukasz Wilczynski is an expert in strategic creations with many years of communication experience, also international, in B2B and new technologies. He specialises, amongst others, in corporate communication, reputation management, media relations, and managing event organisation. Lukasz Wilczynski is the leader of the East Europe hub in GlobalCom PR Network, one of the biggest communication networks, founder of the European Space Foundation, and the initiator of the European Rover Challenge, the biggest space, and robotics event on the European continent.
In this WebTalk, Lukasz Wilczynski will talk about his work as the organizer of the European Rover Challenge. The ERC started as a university robotics competition to be now one of the most recognizable space events. Lukasz will xplain the mission of ERC and what exactly happening during these three days of space inspiration.
The audience will have an opportunity to ask questions in dialogue with Lukasz Wilczynski.
SpaceWatch.Global is a Switzerland-based digital magazine and portal for those interested in space and the far-reaching impact of the space sector.
This Space Café WebTalk will be conducted in English on 14 September 2021 at 4 pm CEST.
Reserve your place today.