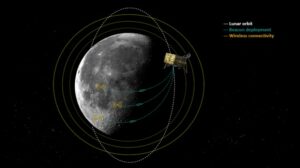 Edinburgh, 8 September 2021. – Masten Space Systems was awarded a Phase II SBIR contract to develop and test a lunar positioning and navigation network prototype, Masten said. The GPS-like solution is part of the Air Force Research Laboratory's AFWERX program. The network will boost cislunar security, improve landing accuracy and hazard avoidance by providing location tracking for spacecraft and astronauts on the lunar surface.
The technology will save spacecraft carrying heavy navigation hardware and sensors onboard, lower spacecraft costs and increase payload capacity as well. Masten has already completed the concept design for the network prototype in Phase I. This will offload position, navigation, and timing (PNT) beacons into a sensor array on the Moon.
In Phase II of the project, the company will develop PNT beacons capable of surviving the harsh lunar conditions. In collaboration with Leidos, Masten is planning to build shock-proof beacon enclosures that can penetrate the lunar surface to create a surface-based network. The system will be able to provide consistent wireless connectivity to lunar spacecraft.
Masten is aiming to complete Phase II of the project by 2023. This involves testing the PNT technology aboard their rocket-powered lander, Xodiac. The company has previously tested Jet Propulsion Laboratory's lander vision system on their Xombie rocket to reinforce a successful Mars mission for NASA's Perseverance rover. The date of Masten Mission 1 to the lunar south pole is yet to be confirmed.