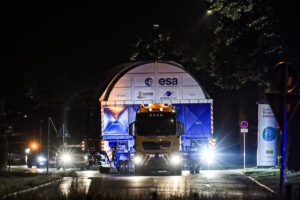 Paris, 9 September 2021. – The European and the U.S. space agencies, ESA and NASA, have scheduled the launch of the giant James Webb Space Telescope on an Ariane 5 rocket for December 2021, Arianespace said.
Flight VA256 is scheduled for 18 December from the Guiana Space Center, Arianespace said. The launcher and launch services are part of ESA´s contribution to the Webb project.
Webb, an international collaboration between the National Aeronautics and Space Agency (NASA), the European Space Agency (ESA) and the Canadian Space Agency (CSA), will be the largest, most powerful telescope ever launched into space.
Flight VA256 will be the third Ariane 5 launch of the year, following VA254, which was successfully launched on 30 July, and VA255, which is scheduled for 22 October, Arianespace said.