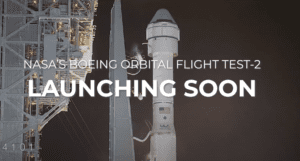 Athens, 3 August 2021. – NASA is preparing for the Starliner test launch to the International Space Station (ISS), the agency said.
The launch and docking of the agency's Boeing Orbital Flight Test-2 (OFT-2) to the ISS is the second uncrewed flight for Boeing's CST-100 Starliner spacecraft and is part of the agency's Commercial Crew Program.
The mission is targeted to launch at 1:20 p.m. EDT today.
Starliner will launch on a United Launch Alliance Atlas V rocket from Space Launch Complex-41 at Cape Canaveral Space Force Station in Florida, NASA said. About 30 minutes after launch, Starliner will perform its orbital insertion burn to begin its daylong trip to the space station. The spacecraft is scheduled to dock to the space station at 1:37 p.m. tomorrow.
The spacecraft will carry more than 400 pounds of NASA cargo and crew supplies to the space station. It will return to Earth with more than 550 pounds of cargo, NASA said.
The mission had to be delayed following a serious technical glitch last week when the Russian science module Nauka docked to the ISS and inadvertently fired its thrusters, pushing the space station out of its orbit and out of control for 45 minutes.
Russian Roscosmos said that the mishap was due to a "software failure".