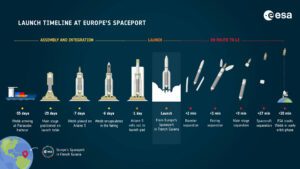 Athens, 27 August 2021. – The giant James Webb Space Telescope is ready to be shipped to its launch site at Europe´s spaceport in Kourou, French Guiana, the European Space Agency (ESA) said.
The telescope has successfully completed its final tests and is being prepared for its shipment, ESA said. The final tests were carried out at Northrop Grumman's facilities in California, U.S.
Shipment operations have now begun, including all the necessary steps to prepare Webb for a safe journey through the Panama Canal to its launch location in French Guiana, on the northeastern coast of South America.
Once the telescope arrives at Europe's spaceport, the launch processing teams will prepare and configure it for its flight on an Ariane 5 rocket provided by ESA and make a '"dress rehearsal', before it rolls out to the launch pad two days before launch.
The James Webb telescope is an international partnership between NASA, ESA and the Canadian Space Agency (CSA).