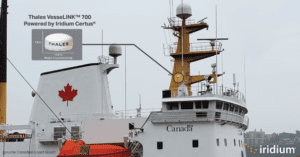 Athens, 5 August 2021. – Iridium will connect the vessels of the Canadian Coast Guard with its Thales terminals, the company said.
The Canadian Coast Guard deployed dozens of Certus terminals on its vessels, including icebreakers, to contribute to reliable internet connectivity, ensure the safety of mariners in Canadian waters and protect Canada's marine environment, Iridium said.
Iridium Certus delivers weather-resilient and global coverage, ensuring dependable connectivity in the high Arctic where the Coast Guard serves, it said.
The Iridium network supports Coast Guard ships' and crew members' ability to stay in touch with headquarters and secure its access to navigational data and weather reports, Iridium added.
Iridium sees itself as "(t)he only communications network providing reliable coverage to the polar regions".
The NASDAQ-listed company launched the Global Maritime Distress and Safety System (GMDSS) in December 2020.