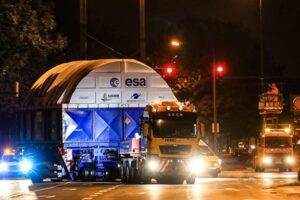 Athens, 19 August 2021. – The upper stage of the Ariane 5 which will launch the James Webb Space Telescope into space later this year is on its way from Bremen in Germany to the European Spaceport in French Guiana, ArianeGroup said.
Using a special transport, the Ariane 5 upper stage was brought from the ArianeGroup site in Bremen to the port of Neustadt during the night from Tuesday to Wednesday, the company said, to be loaded onto the "MN Toucan", a special vessel, to continue its journey to Kourou in French Guiana.
ArianeGroup is the prime contractor for Ariane 5 and Ariane 6 and responsible for the development and construction of the European launcher family. ArianeGroup's Bremen site is the European center of excellence for the launcher upper stages, while the Ottobrunn site in Bavaria near Munich develops and builds the thrust chambers for the Vulcain 2 and Vinci engines.
The James Webb telescope will be the largest and most powerful telescope ever launched and is an international partnership between the U.S. space agency NASA, the European Space Agency ESA and the Canadian Space Agency CSA.