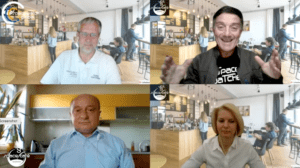 In the latest Space Café "Law Breakfast with Steven Freeland", Steven Freeland and Torsten Kriening welcomed Elina Morozova and Andrzej Misztal at the wonderful 'Coffee-Desk' Café in Warsaw.
Over blueberry cake, home-made cookies, croissants, and coffee, the panelists, along with a lively audience engaged in a revealing and insightful discussion dealing with many legal issues arising from everyday space activities, including the following:
A look at the legal, ethical and environmental issues raised by the sub-orbital flights by Sir Richard Branson and Jeff Bezos
Are we really on the verge of a vibrant space tourism industry?
Would this serve the greater interests of humanity?
The changing yet ordered characteristics of space and space law
What is the role of 'morality' in the way space law and practice is developed?
Are we really moving towards a so-called 'democratization' of space?
The elements and methods of multilateralism at work – what should we look for when assessing the effectiveness of multilateralism?
How the governance model for space is similar to, and differs from the way we govern the Antarctic and Arctic
What lessons can we gain for the governance of space from the structure and operation of the ITU
And sooooo much more……
Elina and Andrzej also gave their 'one word' to describe the wonders of space/space law – a tradition for all guests at the Space Café Law Breakfasts. Space law certainly means many things to many people and is such an interesting and relevant concept, even to the non-lawyers in the audience.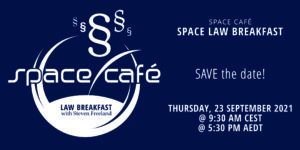 We hope that you will enjoy this discussion and will already put in your diary to join in the next Space Café "Law Breakfast with Steven Freeland" on 23 September with two more fabulous guests, Setsuko Aoki and Peter Hulsrøj. There are so many more issues to discuss.
Please let us know if there is a particular event or issue that you want our expert panel to help to 'demystify'.
We really hope you will join us for breakfast! See you then!
This Space Café "Law Breakfast with Steven Freeland" was held on 22 July 2021.
SpaceWatch.Global
 is a Switzerland-based digital magazine and portal for those interested in space and the far-reaching impact of the space sector.
Here the video: