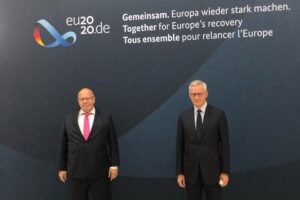 Paris, 21 July 2021. – Germany and France agreed to spend more money on Ariane 6 and back the new European launcher, as well as the smaller Vega, with public and institutional missions.
The two large budget contributors to the European Space Agency (ESA) thus concluded a discussion and discord between Berlin and Paris that could not be solved at the last Member State meeting mid-July.
Both countries also agreed to give Ariane 6 and the new Vega version a preferential status for public and institutional launches.
The economy ministers of both countries, Bruno Le Maire and Peter Altmaier, also seem to have found a common line with regards to micro-launchers – which also was a source of discordance in the recent months.
The accord gives Ariane 6 an "institutional and commercial future", Le Maire said, "mainly on the market for constellations". "We all believe that micro-launchers have a great future", Altmaier added, with regards to the small launchers that are mainly developed in Germany by a couple of startups.
The agreement between Germany and France now have to be discussed and endorsed by the other ESA Member States.
The two ministers did not mention numbers and how much additional Ariane 6 funding they are ready to dedicate to the new European launcher which is developed and built by ArianeGroup.