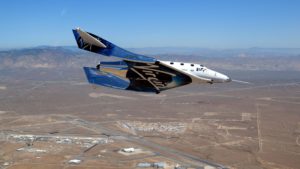 Paris, 9 June 2021. – Space race between billionaires? "It looks like Richard Branson could beat fellow billionaire Jeff Bezos to space next month", Parabolic Arc reports.
Citing "a source who requested anonymity", Parabolic Arc reports that Virgin Galactic is working on a plan to send Branson on a suborbital flight aboard the VSS Unity SpaceShipTwo rocket plane over the 4 July weekend.
In that case, Branson's flight would take place about two weeks before Jeff Bezos, the website says. Bezos, his brother Mark and the winner of an online auction are scheduled to fly on Blue Origin's New Shepard vehicle for its first crewed suborbital flight on 20 July.
If Branson flies before Bezos, there will likely be a debate over whether he actually reached space, Parabolic Arc comments, because the U.S. Federal Aviation Administration (FAA) recognizes 50 miles as the boundary of space while the Fédération Aéronautique Internationale considers at 100 km, at the Karman line, Parabolic Arc writes.