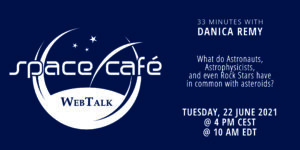 This Space Café WebTalk will feature Danica Remy, Co-Founder of Asteroid Day and President of B612, in conversation with Torsten Kriening, publisher of SpaceWatch.Global.
Astronauts, Astrophysicists, and even Rock Stars? Find out why they all want humanity to know more about asteroids.
Join us for a discussion about the importance of asteroids and the new space sector. We will discuss their role in the formation of our solar system, their impact on space resources, and the importance of defending our planet from future impacts. We will cover the role of the new space economy, the way new technology and big data will be changing the way we look at and for asteroids, and our opportunities and challenges as we move beyond earth and out into our solar system
The audience will have an opportunity to ask questions in dialogue with Danica Remy.
SpaceWatch.Global is a Switzerland-based digital magazine and portal for those interested in space and the far-reaching impact of the space sector.
This Space Café WebTalk will be conducted in English on 22nd June 2021 at 10 am EDT / 4 pm CEST.
Reserve your place today.