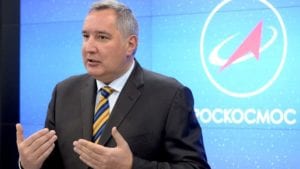 Berlin, 17 June 2021. – The Russian state space corporation Roscosmos is in talks with the European Space Agency (ESA) to join the project for a Russian-Chinese lunar station, Roscosmos head Dmitry Rogozin told reporters according to the news agency Interfax.
"We are actively in talks with many players. This is what we and our Chinese partners are doing. We are checking the lists to see who has talked to whom. But I can tell you that the largest partner is the European Space Agency," Interfax quoted Rogozin from the Global Space Exploration Conference 2021 (GLEX) in St. Petersburg.
Privately-owned companies would also be able to participate in the Russian-Chinese lunar station project, Roscosmos Deputy General Director for International Cooperation, Sergei Savelyev, added, according to another Interfax report.
"We don't rule out private businesses participating," Savelyev said during a presentation of the project's roadmap at the GLEX-21 conference, Interfax reported.