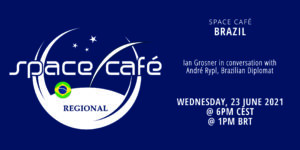 This Space Café Brazil will feature Andre Rypl, a Brazilian diplomat, in conversation with Ian Grosner, Correspondent of SpaceWatch.Global for Brazil.
The Role of Brazil as a founding member of the Committee on the Peaceful Uses of Outer Space (COPUOS)
Andre Rypl is a career diplomat from Brazil who has been working with space issues since 2012. He has participated in several negotiation processes such as the proposal for an International Code of Conduct for Outer Space Activities, the guidelines on the long-term sustainability of outer space activities and the COPUOS Space 2030 Agenda. He is an advocate of increased interaction between different UN bodies, NGOs, academia, the private sector and other space stakeholders to promote the responsible, peaceful and sustainable use of outer space. He was chair of COPUOS in 2019 and lives in Vienna, where he works at the Brazilian Embassy.
The audience will have an opportunity to ask questions in dialogue with Andre Rypl.
SpaceWatch.Global is a Switzerland-based digital magazine and portal for those interested in space and the far-reaching impact of the space sector.
This Space Café Brazil will be conducted in Portuguese on 23rd June 2021 at 6 pm CEST.
Reserve your place today.