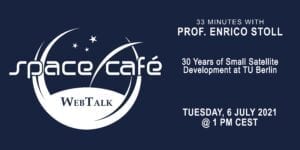 This Space Café WebTalk will feature Prof. Dr.-Ing. Enrico Stoll, Chair of Space Technology at the Technical University (TU) Berlin, Germany, in conversation with Torsten Kriening, publisher of SpaceWatch.Global.
30 Years of Small Satellite Development at TU Berlin
The first TU Berlin satellite was launched in 1991 by Prof. Renner. This year will be the 30th anniversary of the launch. In the years following this 25 more satellites were launched and the next one is on the launch pad in Cape Canaveral.
Prof. Enrico Stoll will discuss the possible directions of future research. The main topics of future research are:
distributed sensor networks for Earth Observation and climate research;
robotics with CubeSats for debris removal, in-space manufacturing and assembly, repair in space, and maybe 3D printing on orbit.
Currently, TU Berlin is developing CubeSat robotic arms that are foldable into 1U cubesats and feature a working space of up to 1 m as well as developing a nanosatellite mission (2x 2U) that will demonstrate different aspects of formation flight. Furthermore, they are developed a biologically inspired docking mechanism, that is based on (so-called) gecko material and could dock to e.g. solar cells.
The audience will have an opportunity to ask questions in dialogue with Prof. Enrico Stoll.
SpaceWatch.Global is a Switzerland-based digital magazine and portal for those interested in space and the far-reaching impact of the space sector.
This Space Café WebTalk will be conducted in Englis on 6th July 2021 at 1 pm CEST.
Reserve your place today.