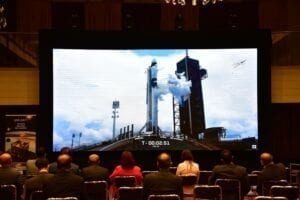 Paris, 10 June 2021. – Mauritius has its own satellite.
The first-ever Mauritian nanosatellite MIR-SAT1 has docked at the International Space Station (ISS) aboard a SpaceX cargo Dragon rocket, the Ministry of Information Technology, Communication and Innovation of the Republic of Mauritius announced.
The Mauritian nanosatellite will be sent into low earth orbit (LEO) from the space station by 22 June, the ministry said.
"This is a historic move for Mauritius which envisions to engage in the spheres of space and satellite technology as part of its national development agenda."
The Mauritius Research and Innovation Council has set up a ground station at its premises in Ebène to receive data from MIR-SAT 1. The data will be used for various purposes, including maritime surveillance of Mauritius' vast exclusive economic zone, climate change adaptation, weather forecasting and road traffic management, the ministry said.
Mauritius has developed the nanosatellite and the related facilities with technical support from the United Nations Office for Outer Space Affairs (UNOOSA) and the Japan Aerospace Exploration Agency (JAXA), it said.