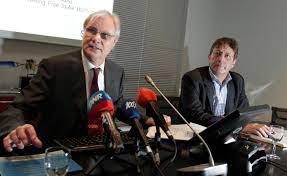 Luxembourg, 15 June 2021. – The satellite industry has lost one of its best and most committed communication executives: Yves Feltes.
Yves died this week in a hospital in Luxembourg.
Yves headed and managed the communication of SES, one of the world's largest satellite operators based in Luxembourg, for 25 years. He pioneered in this rapidly growing sector and helped to write one of the most impressive success stories of the industry and the Grand Duchy.
He founded his own company, ycomm, in 2015, and worked for customers in the space and high-tech industries, designing and rolling out their communication strategies, managing media relations and large campaigns.
We will always remember Yves as this smart, audacious, and passionate person that connected us, inspired us, made us laugh and encouraged us to always go the extra mile, move mountains, love rockets, and live life without compromises,  surrounded by the many friends who now, in deep sadness, say farewell to this wonderful man.