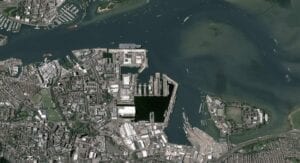 Paris, 29 June 2021. – Airbus will continue to provide the UK Royal Navy with satellite-based maritime surveillance services, the company said.
The UK Royal Navy has awarded a 12-month contract extension to Airbus covering the continued provision of satellite-based maritime surveillance services for the Joint Maritime Security Centre (JMSC), Airbus said.
"The contract follows the successful completion of a proof of concept phase and will ensure the continued monitoring of areas of interest in UK waters and ultimately protect UK sovereign borders from suspicious vessel activity," Airbus said.
Using optical and radar imaging as well as AIS (Automatic Identification System) data, Airbus will provide reports about vessels within the UK Exclusive Economic Zone, as well as information that will help in the prevention of potential illegal activities.