by Luisa Low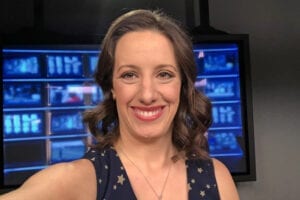 During this week's Space Café, SpaceWatch.Global publisher Torsten Kriening met with space professional, author, scientist, analyst and millennial, Laura Seward Forczyk.
Laura is the founder and CEO of Astralytical, a space science, industry and policy consultancy that provides space career coaching services, big-picture market trends, startup and stealth company strategies, astronomy and planetary science mission analysis, as well as an advisory for space tourism, spaceport development and education… just to name a few.
She is also a NASA Subject Matter Expert for planetary science missions, the author of a book, Rise of the Space Age Millennials: Aspirations of a Rising Generation, and a prolific volunteer for organisations such as For All Moonkind: Science, Industry and Education Council and the Lifeboat Foundation.
This week, she and Torsten discuss the one thing we all want to know: how close are we to commercial human space travel?
Commercial human space flight – coming to a spaceport near you (if you can afford it)
In the naughties, space tourism company Space Adventure was successful in taking seven "private astronauts" to the International Space Station. Since then, commercial human space travel has been more of a vision than a reality – one used for investor pitches and public relations teasers. According to Laura, the wait may soon be over. While the pandemic brought global travel to its knees, commercial human space travel is finally ramping up and could become a reality as early as July this year.
"Blue Origin surprised us recently with an announcement that they are going to fly their first crewed flight with the highest bidder on board, and they want to fly on July 20: the anniversary of the Moon landing."

"They've had a successful run of un-crewed flight so I don't see any reason why they wouldn't fly a crew this year."
Commercial space travel will be a Moonshot
Blue Origin are not the only space travel agency with missions planned for the near future. As early as September 2021, SpaceX plans to launch a completely private mission that will orbit around the International Space Station. Comprised of civilians, no one on the mission will have had any previous astronaut experience.
"It has been bought and paid for by an individual, Jared Isaacman, who chose one of his crew members and has held a contest to choose the two other additional crew."
SpaceX is also scheduled to facilitate week-long tours of the International Space Station in early 2022. Comprising wealthy individuals, the tour of four will be led by former NASA astronaut, Mike Lopez Alegria. It doesn't stop there. SpaceX is also planning the dearMoon voyage, a 13-person lunar orbital mission that will be boarded by 8 "creative" civilians.
"There's an open competition for that: where people around the world compete to get chosen to be a creative person on this mission to go around the moon."

"And I love that concept because we need to bring humanity to space… we need to bring the humanity of space back down to earth and get people excited about what it means to be up there."
As for the rest of us?
If the rapid pace of technological advancements in the past century has taught us anything, then we should definitely keep dreaming.
To listen to Laura Forczyk's insights into space budgets, you can watch the full program here.
Luisa Low is a freelance journalist and media adviser from Sydney, Australia. She currently manages Media and Public Relations for the University of Sydney's Faculty of Engineering.