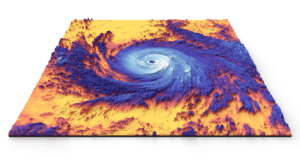 Paris, 25 May 2021. – NASA builds a new Earth System Observatory to cope with climate change, forest fires and hurricanes and to support a "real-time agriculture", the U.S. agency said.
"With the Earth System Observatory, each satellite will be uniquely designed to complement the others, working in tandem to create a 3D, holistic view of Earth, from bedrock to the atmosphere," NASA said.
The observatory will study aerosols, clouds and weather, water supply, and the Earth's surface and ecosystems, the agency said. It did not specify the investment or the exact architecture of the observatory.
NASA is currently initiating the formulation phase for the observatory. Among its first integrated parts is NASA's partnership with the Indian Space Research Organisation (ISRO), which brings together two different kinds of radar systems that can measure changes in Earth's surface less than a half-inch, NASA said.
This capability will be utilized in one of the observatory's first missions intended as a pathfinder, called NISAR (NASA-ISRO synthetic aperture radar). This mission will measure some of the planet's most complex processes such as ice-sheet collapse and natural hazards such as earthquakes, volcanoes, and landslides.