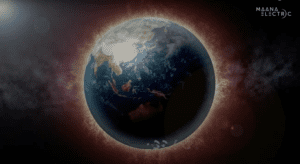 Paris, 20 May 2021. – The Luxembourg-based startup Maana Electric extends its contract with the European Space Agency (ESA) to complete the production of its TerraBox system and demonstrate how to transform terrestrial sand and lunar regolith into solar panels, the company said.
The multi million Euro contract is part of the Luxembourg National Space programme LuxIMPULSE and is supported by the Luxembourg Space Agency (LSA), Maana Electric said.
"TerraBox is the perfect illustration of technological breakthrough which has both terrestrial and space applications. The project addresses a challenge which will definitely pave the way for the future of space exploration and will also set examples for a cleaner, more sustainable use of local resources on Earth," said Marc Serres, Luxembourg Space Agency's CEO.
The TerraBox is a mobile factory which fits into several shipping containers and can be deployed around the world. What makes the TerraBox unique is the capability to produce solar panels using only sand and electricity as inputs hereby allowing the TerraBox to produce solar panels from local sand resources in desert regions," Maana Electric says.