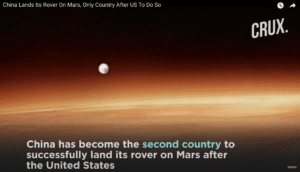 Paris, 17 May 2021. – A historic step: China landed a rover on Mars on Saturday, making it the second space-faring nation after the United States to land on the Red Planet, China's state media and the worldwide media reported.
The uncrewed Tianwen-1 spacecraft landed on a vast plain known as Utopia Planitia, leaving a Chinese footprint on Mars for the first time, the state-owned agency Xinhua said.
The rover named Zhurong, after a mythical Chinese god of fire, unfolded its solar panels and antenna and started to send signals to the ground controllers more than 320 million kilometers away, the reports said.
The rover will now survey the landing site and depart on 22 May to conduct inspections, Chinese officials said. The rover has six scientific instruments including a high-resolution topography camera on board to study the Red Planet's surface, soil and atmosphere.
Zhurong will also look for signs of ancient life, including any sub-surface water and ice, using a ground-penetrating radar.
The Tianwen-1 mission started in July last year, with a launch on a Long March 5 rocket, and reached Mars in February, after a journey of more than six months.