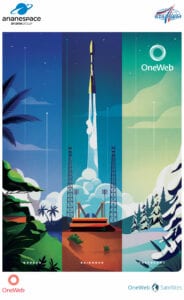 Paris, 31 May 2021. – Arianespace placed another 36 OneWeb satellites in orbit, the launch company said.
Following the 7th launch for OneWeb, Arianespace has now deployed 218 satellites in low Earth orbit (LEO) for the constellation, Arianespace said.
Performed on Friday, May 29 at precisely 02:38 a.m. local time at (05:38 p.m. on May 28, UTC), Soyuz Flight ST31, the 57th Soyuz mission carried out by Arianespace and its Starsem affiliate, orbited 36 new OneWeb satellites from Russia's Vostochny Cosmodrome on Friday, the company said.
Arianespace will perform 12 more Soyuz launches through 2021 and 2022. These launches will enable OneWeb to complete the deployment of its full global constellation of low Earth orbit satellites before the end of 2022, Arianespace said.