by Luisa Low
Can regulation match innovation in a space race? 3 experts discuss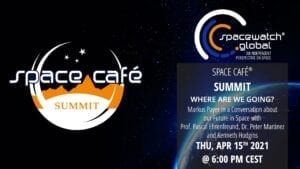 The space race never ended. In fact, it just got a whole lot faster 
Space engineering has always been a fundamentally future thinking activity, but in recent years mass investment in the industry coupled with technological development has been like a shot in the arm. The stakes couldn't be higher and, as a result, discussions around the industry's future success, safety and viability are now more important than ever. 
Underscoring all of these discussions is regulation, and the question of whether it can keep up.
During this week's Space Cafe Summit, Occupy Space: Where are we going?, Markus Payer , SpaceWatch.Globals Editor-in-Chief had the chance to discuss the future of space with three space experts who are each leader in their field, Professor Pascale Ehrenfreund, Dr. Peter Martinez and Kenneth Hodgkins.
Watch it here to learn about regulation, safety, traffic management, settlements on Moon and Mars sectors, possible space wars, and both the optimism and scepticism that are defining the future of space. 
Bringing government and civil society along on the journey

Pascale Ehrenfreund is an Austrian astrophysicist, President of the International Astronautical Federation and Professor of Space Policy and International Affairs at George Washington University's Space Policy Institute. 
She believes that while R&D and working with private enterprises are significant drivers of change, the real investment comes from engaging government and society in a meaningful way.
"Convincing governments on why deep space missions are so important, and engaging society are very important," said Professor Ehrenfreund. 
She also says that although a large, multi-faceted framework has been developed to aid in space regulation, a flexible and agile approach, that balances the needs of space actors are key to meet the demands of an ever-changing industry.
Kenneth Hodgkins, who is the President of the International Space Enterprise Consultants, also believes civil society must be engaged in a meaningful way to sensibly plot the future of space. 
"What we need is a sustainable platform for civil society to input on, to work out how we "straighten out the wild, wild West," said Kenneth, who was previously the Director of the Office of Space and Advanced Technology for the US Department of State. 
Regulation must be prioritised: not doing so would be at the industry's peril
Although he agrees regulation is necessary, its inability to keep pace with change has led to a significant lag, which is not just disruptive but is a hindrance to new business. He said: "It's not a good position to be in, in my view, because that adds uncertainty to the business models for these ventures".
According to Dr. Peter Martinez, who is the Executive Director of the Secure World Foundation, there are also some in the industry who would rather do away with regulation because of its seeming inability to keep up the pace of innovation.
"The development of technology happens at a much faster pace than the wheels of government and regulation can turn," said Peter, who previously chaired the United Nations Committee on the Peaceful Uses of Outer Space. 

"Billionaires with strong interests in space and venture capital funds that are making lots of funding available for these new space actors are sometimes entering the space arena while not quite realising they are entering a fragile and strategic environment," he said. 

"I know that sometimes people remark that the Outer Space Treaty is outdated – there is really not much of an appetite to reopen the treaty,"

"I think it would be very dangerous to do so because we might lose of some of the really cherished things in the Outer Space Treaty,"
To listen to the Space Cafe Summit, you can watch the full program here:
To subscribe and get the latest on the space industry from world-leading experts visit – click here.
*Luisa Low is a freelance journalist and media adviser from Sydney, Australia. She currently manages Media and Public Relations for the University of Sydney's Faculty of Engineering.