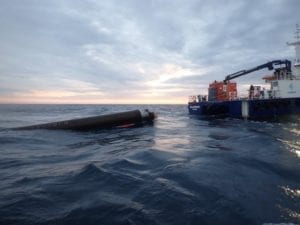 Paris, 9 April 2021. – Rocket Lab wants to recover the booster of its Electron launcher on its next mission, the company said.
Scheduled for launch in May 2021 from Launch Complex 1 in New Zealand, the 'Running Out of Toes' mission will be Rocket Lab's 20th Electron launch and the second of three planned ocean splashdown recovery missions, Rocket Lab said.
The mission is the next major step toward making Electron "the first orbital-class reusable small launch vehicle, enabling rapid-turnaround launches for small satellites," the company said.
The mission will deploy two Earth-observation satellites for BlackSky's monitoring constellation.
'Running Out of Toes' follows Rocket Lab's first recovery mission, 'Return to Sender', which launched in November 2020.