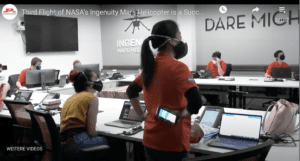 Luxembourg, 27 April 2021. – "Faster and farther": NASA's Mars helicopter Ingenuity flew a third time, rising five meters high and 50 meters far at a top speed of 2 meters per second, the U.S. space agency said.
NASA's Jet Propulsion Laboratory in Southern California received a first bunch of data and images that the Perseverance rover, serving as a communications base station, captured.
In the days ahead, segments of the video that the rover took will be sent back to Earth, NASA said, showing most of the helicopter's 80-second journey across its flight zone.
The Ingenuity team has been pushing the helicopter's limits by adding instructions to capture more photos of its own, including from the color camera, which captured its first images on Flight Two, NASA said.