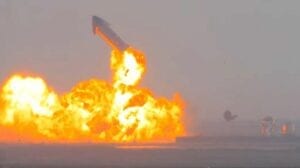 Paris, 5 March 2021. – Another RUD (rapid unscheduled disassembly), another fireball: SpaceX's latest Starship SN10 flew and landed successfully but exploded on the site some minutes after its landing.
"Starship serial number (SN10) successfully completed SpaceX's third high-altitude flight test of a Starship prototype from our site in Cameron County, Texas," SpaceX said.
SN10 was the third Starship test flight, and the third time – after SN8 and SN9 – that the vehicle exploded. It was, however, the first time that it landed safely.
SN10 was powered through ascent by three Raptor engines, each shutting down in sequence prior to the vehicle reaching apogee – approximately 10 km in altitude, SpaceX said. "SN10 performed a propellant transition to the internal header tanks, which hold landing propellant, before reorienting itself for reentry and a controlled aerodynamic descent" as well as a "precise landing at the intended location".
"As if the flight test was not exciting enough, SN10 experienced a rapid unscheduled disassembly shortly after landing," SpaceX added. "All in all a great day for the Starship teams"!