by Malak Trabelsi Loeb
The case of Climate Change and Food Security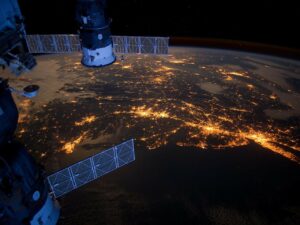 When the New York Times Best Seller "Space Chronicles: Facing The Ultimate Frontier" Neil DeGrasse Tyson was asked during an interview to quantify the merits of space exploration, he argued that it took him a whole book to address such a question. Similarly, quantifying satellite technologies' merits would also take much more than one article. Satellite technologies enable communications, exchange of information, support the economy, ensure security and defense, facilitate health service provision, manage disasters, and preserve the environment. States and non-state actors have used satellite based-applications to tackle the global challenges addressed by the author in a series of publications, aiming to raise awareness on their use to support socio-economic development and protect the environment. While Covid-19 continues to pose an unprecedented global challenge, climate change is one of the biggest challenges humanity is facing in the longer run. Climate change impacts food security since climate change ranges from increased intensity and frequency of extreme environmental events to temperature changes. Thus, this article will essentially address various use of Remote Sensing (RS) and civil space-based Earth Observation (EO) to ensure food security, monitor climate change, and manage environmental disasters.
As defined during Rome's 1996 World Food Summit, food security is the economic and physical access to safe, sufficient, and nutritious food by all people, at all times, to meet their dietary and food needs for an active and healthy life. As per the mentioned definition, to ensure food security, four interrelated dimensions must be met. The first dimension is the physical and economic access to food. The second dimension is related to food availability in terms of supply and its dependency on the production levels, the net trade, and stock levels. The third dimension is related to food use and people's health. The fourth dimension is maintaining the food security's stability and mitigating its adverse effects' risks on the other dimensions. It is no surprise that in a globalized and digitalized world, satellite technologies have an essential role to play at each level of these dimensions to achieve food availability, food access, food use and utilization, and food stability.
This article will refer only to several satellite applications' use to ensure food security from a few dimensions' lenses. When it comes to food security, water availability is crucial in ensuring food security. Satellite technologies are used to manage water productivity to sustain food production. While EO assists in monitoring and assessing water evapotranspiration and productivity in the identified areas to be irrigated, RS applications assist in implementing sophisticated irrigation techniques. These techniques are deployed to collect various data on the planting intensity, soil conditions, temperature, and other related factors. Such techniques help to prepare solutions to improve crop productivity. They also help ensure efficient water management and precise use of pesticides and fertilizers. The used satellite-based application, among others, improve food production, reduce costs, and limit the possible deteriorating agricultural activities. For example, Copernicus satellite applications support European agricultural activities. Its multispectral optical sensors are deployed to monitor Crop growth based on specific technical indexes and parameters. Data is used to assess the evapotranspiration rates to manage the water and fertilizers' use and monitor the soil properties, solar radiation, and extreme weather conditions that could affect crop growth. Copernicus's presented agricultural monitoring use is just one of its applications to food production sustainability while ensuring adequate water management. For global food security, satellite technologies are deployed to ensure food availability through different techniques like soil fertility assessment, crop growth monitoring, crop development, and potential anomalies' tracking, soil moisture measurement, and soil chemical composition analysis. Such applications play a crucial role in Sub-Saharan Africa to enable soil monitoring of moisture using microwave radiation to alarm farmers about droughts in early stages.
This would lead to discuss the next interrelated issues which have advert effects on food security.
Environmental disasters and climate change have become concerning due to their impact on societies and economies. Intensified climate issues and their disastrous impact on the environmental, economic, and social dimensions are best demonstrated using a list of non-exhaustive repercussions of the environmental degradation issues on Small Island Developing States (SIDS). Climate change's narratives have addressed SIDS to substantiate the climate change deleterious effect on the environment through the global temperature rise on these SIDS, causing sea level rise, degeneration of the protective reef against wave currents make these islands vulnerable to potential climate risks. Climate change's detrimental impact on SIDS goes beyond environmental catastrophes. It strikes the economy due to the loss of infrastructure, mainly caused by floods, and capital flight due to infrastructure shift to other countries. Such impacts have irreversible damage to the SIDS's social weft since it catalyzes migration and causes other social issues such as poverty, job losses, and health crises. Data based on the 2018 Global Report on Internal Displacement (GRID 2018) shows that environmental disasters and climate change cause the displacement of 22.5 million people worldwide since 2008. The preparedness, detection, and management of environmental disasters and climate change that affected the environment rely upon satellite technologies. The management and preparedness of local, regional, and large-scale transboundary environmental disasters hinge on the collected data and high frequencies capabilities of space-based technologies.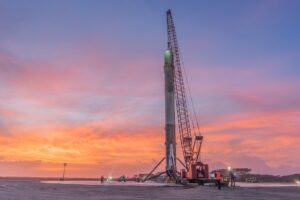 Satellite technologies have been used to help understand the climate change phenomenon and help find solutions to mitigate their deteriorating consequences caused by hurricanes, droughts, rising sea levels, floods, and wildfire. Scientists use various observation systems and satellite technologies, networks of weather balloons, buoys, and thermometers to collect climate change's evidence from the depths of oceans to the top of Earth's atmosphere. EO is used to map the greenhouse gases and monitor the carbon dioxide (CO2) concentration, the former's second most abundant component after water vapor, which is also monitored through water management, and weather forecast.
Space agencies continue to monitor the evolution of greenhouse gases' emissions and their impact on the environment. For example, the Japanese Aerospace Exploration Agency (JAXA) initiative in 2009, the agency has launched the first dedicated satellite to measure the CO2 atmospheric level and to monitor the global greenhouse gases concentration "Greenhouse Gases Observation Satellite" (GOSAT). Stakeholders use space-based technologies to collect data using precise atmospheric CO2 space-based measurements to mitigate risks of human activities' advert effects on the environment. The collected data shape national and international environmental policies to mitigate environmental risks. JAXA also deployed a constant and long-term observation Global Change Observation Mission (GCOM) satellite to observe the Earth's environment changes. Space Agencies are not the only actors to tackle climate change-related matters using satellite applications.
The private space sector has gained momentum in monitoring climate change amidst the increasing numbers of private actors' launched satellites, thanks to the New Space era. EO technology manages environmental disasters and monitors environmental alteration, such as deforestation, sea levels, and greenhouse gas emissions. Climate change related-services have been attracting private space actors, catalyzed by new market trends from one hand and by climate ethics. Taking "Planet" as an example, with more than 351 deployed satellites, the satellite operator does not only use space-based applications to assist in addressing climate change. It supports nations by providing clean water, affordable energy and assists in disaster management under the International Charter Space and Major Disasters. "Planet" is the perfect example of the private actor to offer humanitarian aid through availing Earth-imaging data to assist the Charter since 2018.
Governmental Agencies, Intergovernmental Organizations, NGOs, and private actors use the collected data to assess environmental risks and their effects on the socioeconomic dimensions. The same data are processed and utilized to prepare strategies shaped upon various environmental risk assessment models. Each plan is shaped based on many factors and determinants, including the population vulnerability, the related overall exposure to climate change.
Satellite technologies are critical in ensuring healthy lives, promoting well-being, ensuring food security, managing environmental disasters, and mitigating climate change effects on the environment and Earth's ecosystems. Stakeholders continue to develop new technologies and capabilities, to monitor climate change and ensure food security. The new generations of satellites, satellite-triggered drones, Artificial Intelligence, the future of climate change monitoring, and disaster and food security management would be more effective with national and international institutional commitment, transparency, and the Private sector input directly or through private-public partnership to excel societies toward overcoming socio-economic and environmental challenges. Nonetheless, there is one critical matter to be addressed when it comes to private actors and the general interest related to climate action and food security, which is related to geoengineering. It is essential to discuss the ethical dilemma revolving around using technologies to deliberately intervene in the Earth's natural systems to counteract climate change. The main ethical concern is related to the philosophy of profit-making using technologies such as solar geoengineering or carbon geoengineering. Questions to be addressed like "Is it ethical for fossil fuel firms, who will continue to pollute and exhaust the natural resources, to invest in these technologies, especially if they benefit from the governmental incentive for the climate action?" Another essential question to be asked is, "Is it ethical for investors within the agricultural sector to invest in these technologies, and would it have an implication for food security?"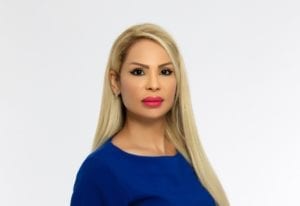 Malak Trabelsi Loeb: CEO, and Founder of Vernewell, Space and Tech Solutions, CEO and Founder of Trabelsi Loeb Legal Consultants FZE.
Mrs. Loeb holds a Bachelor of Law & Economics| LLM International Business Law| M1 Public International Law and European Law| Ph.D. Candidate at KU Leuven, Belgium| Paris Sorbonne University Abu Dhabi, and Paris Descartes,  Alumna.
She is an International Business Law Jurist and International Space Law and policy Senior Legal Advisor, Strategist, and Business Consultant. Her practice focuses on complex International Business Transactions, Due Diligence, International Contracts, Foreign Investment, Legal Risks, Commercial legal matters, Alternative Dispute Resolution, Corporate Governance, Company Law, Space Insurance, New Space Legal Challenges, and Space policies. She is a multidisciplinary professional with renowned Entrepreneurship and International Business experience.
As a Writer and International Public Speaker, Mrs. Loeb addresses various interconnected matters related to Law, Economics, Technologies, International Business, and Public Law. She is a "Sustainable Space For Humanity" advocate addressing the complex outer space socioeconomic and environmental dimensions. Sustainable space For humanity's advocacy aims to keep the peaceful use of outer space while achieving economic and social development for the present and future generations without deteriorating the outer space environment.