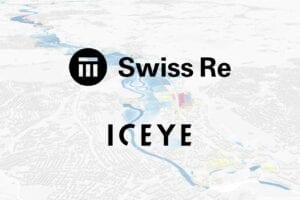 Berlin, 4 March 2021. – ICEYE, the largest commercial synthetic-aperture Radar (SAR) satellite operator and flood monitoring provider, announces its strategic partnership with Swiss Re, one of the world's leading providers of reinsurance and insurance. Building on ICEYE's innovative technology, the partnership will advance flood risk management, assist disaster response and speed up claims payments globally. Swiss Re's clients will benefit from enhanced insights and bespoke solutions.
The partnership announced today will advance Swiss Re's natural catastrophe services by enabling early warning systems and near real-time flood monitoring built on ICEYE's world-leading flood monitoring capabilities with radar satellite imaging. ICEYE's unique radar satellite constellation, high-resolution imaging capabilities, and rapid response analysis fuels ICEYE's monitoring solution, which offers global coverage for Swiss Re to track and react faster to floods around the globe.
The strategic partnership will initially focus on floods and it is intended to expand to other perils soon after, such as wildfires, wind and earthquake damages.
Flooding has been consistently one of the most recurrent and costly natural catastrophes our world suffers. Modelling floods has proven particularly challenging in locations with fine-scale changes in elevation, complex terrains and man-made structures as is typical for dense urban centres. The partnership aims to address exactly these areas where most of the flood modelling today falls short and thereby addressing the insurers' pain points.
Swiss Re will gain access to ICEYE's SAR data on flood events on a global basis, high accuracy observation-based flood maps, snapshots of the developments of individual floods, and water depth estimations within 24 hours for these events. Swiss Re will make footprint assessments of the events available on CatNet® Premium – its proprietary geo risk platform – thereby enabling its clients faster loss assessment and payouts.