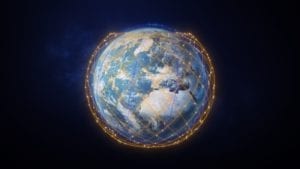 Paris, 10 February 2021. – Light and bright: Thales Alenia Space and its affiliate Telespazio will build Telesat's new LEO constellation Lightspeed, the Canadian satellite operator announced.
Comprised of 298 satellites and an advanced ground network, Lightspeed "is the most innovative, cutting-edge broadband satellite network ever conceived", Telesat said.
Operating 1,000 kilometres above the Earth in the Ka-band spectrum, Lightspeed will provide "fibre-like connectivity across the entire Earth at price points that allow network operators to efficiently and economically enhance their network coverage, performance and profitability", Telesat said.
The contract is worth $3 billion, media reports said; Telesat invests $5 billion in total in the constellation, according to these reports.
Lightspeed will operate 135,000 dynamic beams and nearly 1200 high-capacity optical links, the Ottawa-based firm said, with each satellite using phased array antenna and "beam hopping" technology, to focus multiple Gigabyte-capacity where it is needed, and to interconnect the satellites.
Lightspeed will also deploy data processing capabilities, Telesat says, including full digital modulation and demodulation on the satellite, "coupled with a revolutionary end-to-end network operating system, that improves link performance and gives customers unprecedented flexibility for routing traffic across the globe".
Telesat is developing "affordable" end-user terminals, the company says, with a range of antennas and modems optimized for each of the market verticals Lightspeed will serve.
Telesat expects the first Lightspeed satellites to be launched in approximately two years, with customer beta testing beginning shortly thereafter and commercial services commencing in the second half of 2023.
Telesat's first LEO satellite was launched in January 2018 and is now supporting live demonstrations across a variety of markets and applications.