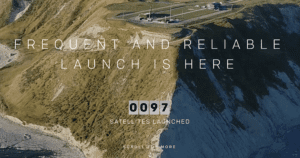 Paris, 10 February 2021. – They Go Up So Fast, that's how it's called: Rocket Lab's next mission in mid-March will bring the total number of satellites launched by Electron to 104, the launch provider said.
Its mission will deploy a range of satellites for commercial and government operators and place a next-generation Photon spacecraft in orbit, the firm in Long Beach, California, said.
Scheduled to lift-off from Launch Complex 1 on New Zealand's Māhia Peninsula in mid-March, the "They Go Up So Fast" mission will be Rocket Lab's 19th Electron launch and its second mission in 2021.
The payload will include an Earth-observation satellite for BlackSky; two Internet-Of-Things (IoT) nanosatellites for Fleet Space and Myriota; a demonstration satellite for the University of New South Wales (UNSW) Canberra Space; a weather satellite pathfinder technology demonstration from Care Weather technologies; a demonstrator for the U.S. Army's Space and Missile Defense Command (SMDC; and Rocket Lab's own Photon Pathstone spacecraft which will operate on orbit as a risk reduction demonstration to build spacecraft heritage ahead of Rocket Lab's mission to the Moon for NASA later this year.