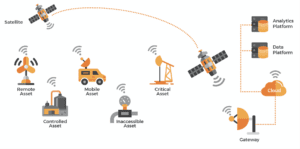 Paris, 8 February 2021. – OQ Technology, a satellite start-up working on 5G and IoT, partners with the Mohammed Bin Rashid Space Centre (MBRSC) in Dubai, the start-up based in Dubai and Luxembourg said.
OQ Technology is building a global constellation of nanosatellites to extend the cellular 5G Internet-of-things (IoT) and massive machine communication in remote and rural areas using its patented technology. The company aims to use "innovative" 5G solutions to enhance connectivity, scalability, and accessibility, and "revolutionise the satellite telecommunication industry", it says.
Through the partnership, MBRSC and OQ Technology aim to develop and innovate in satellite development offering advanced communication solutions and services within the region and worldwide.
MBRSC is responsible for a series of important space projects including the Emirates Mars Mission Hope Probe, the Mars 2117 Programme, the UAE Astronaut Programme, the UAE Satellite Development Programme, and the UAE Space Sector Sustainability Programme.