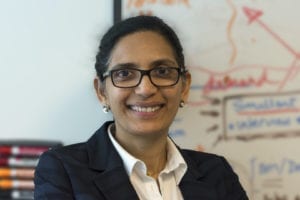 Paris, 4 February 2021. – The NASA has a new acting chief of staff, Bhavya Lal, the agency announced.
Lal served as a senior White House appointee at NASA where she oversaw the transition of the agency after the departure of Administrator Jim Bridenstine and was a member of the Biden Presidential Transition Agency Review Team.
Lal's staff is already growing: Under its new acting administrator, Steve Jurczyk, NASA established the new position of a senior climate adviser, with the climate scientist Gavin Schmidt holding it on an interim basis.
Bhavya Lal brings extensive experience in engineering and space technology, serving as a member of the research staff at the Institute for Defense Analyses (IDA) Science and Technology Policy Institute (STPI) from 2005 to 2020. She led analysis of space technology, strategy, and policy for the White House Office of Science and Technology Policy (OSTP) and National Space Council, as well as for NASA, the Department of Defense, and the intelligence community.
The new acting chief of staff has applied her expertise in engineering systems and innovation theory and practice to topics in space, NASA said, with recent projects on commercial activities in low-Earth orbit and deep space, in-orbit servicing assembly and manufacturing, small satellites, human exploration, space nuclear power, space exploration, and space science. She has published more than 50 papers in peer-reviewed journals and conference proceedings.
Lal is an active member of the space technology and policy community, having chaired, co-chaired, or served on five high-impact National Academy of Science (NAS) committees. She served two consecutive terms on the National Oceanic and Atmospheric Administration (NOAA) Federal Advisory Committee on Commercial Remote Sensing (ACCRES) and was an External Council member of NASA's Innovative Advanced Concepts (NIAC) Program and the Technology, Innovation and Engineering Advisory Committee of the NASA Advisory Council (NAC).
Lal earned Bachelor of Science and Master of Science degrees in nuclear engineering, as well as a Master of Science degree in technology and policy, from the Massachusetts Institute of Technology, and holds a doctorate in public policy and public administration from George Washington University. She is a member of both the nuclear engineering and public policy honor societies.