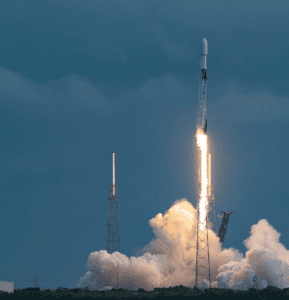 Luxembourg, 25 January 2021. – Another record: SpaceX launched 143 small spacecraft in its first, large rideshare mission yesterday, the company said.
Falcon 9 launched Transporter-1, SpaceX's first dedicated SmallSat Rideshare Program mission, from Space Launch Complex 40  at Cape Canaveral Space Force Station in Florida, SpaceX said.
Falcon 9's first stage booster previously supported launch of Crew Dragon's second demonstration mission, the ANASIS-II mission, a Starlink mission, and launch of Dragon's 21st cargo resupply mission to the International Space Station (ISS), SpaceX said. Following stage separation, Falcon 9's first stage landed on the "Of Course I Still Love You" droneship in the Atlantic Ocean.
On board this launch were 133 commercial and government spacecraft – including CubeSats, microsats, and orbital transfer vehicles – and 10 Starlink satellites – "the most spacecraft ever deployed on a single mission", SpaceX said.
The Starlink satellites were the first in the constellation to deploy to a polar orbit.
Observers also found laser communication terminals on the stacked spacecraft, as they are used for optical inter-satellite links; according to a tweet of Megaconstellations, SpaceX owner Elon Musk confirmed the presence of lasers on board the new Starlink satellites.
30 of the 133 rideshare spacecraft were part of Exolaunch's "Zeitgeist" mission, "completing one of the largest and most diverse rideshare missions for Exolaunch", the company said. The German word Zeitgeist means contemporary spirit, the spirit of a certain age or era.