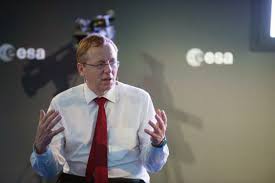 Paris, 11 January 2021. – Earlier handover: The current ESA Director General Jan Woerner will hand over to his successor Josef Aschbacher on 1 March, four months earlier than originally foreseen.
"I have taken stock of the situation and especially the fact that my successor, Director for Earth Observation Josef Aschbacher, is already inside ESA," Woerner said in a tweet.
"According to the decision of that Restricted Council, the official take-up of duty of Mr Aschbacher will occur not later than 1 July 2021. Together with the Chair of Council, I have discussed a number of points, and in particular: (t)he unique situation arising from the fact that the Director General-elect is already an ESA Director; (t)he duration of the transition and its consequences internally and externally; (t)he period until the ESA Council at ministerial level in 2022;(t)he outstanding negotiations with the EU on the FFPA" (the financial framework partnership agreement).
"Based on these various considerations the Chair decided, together with me, to propose to the ESA Council an official take-up of duty by the new Director General on 1 March 2021. The period until that date will be used to secure a smooth transition," Woerner concluded.
Aschbacher was elected on 17 December 2020 by the ESA Council.
Woerner said he would "probably" return to his "professional background in civil engineering" when he leaves the space agency.