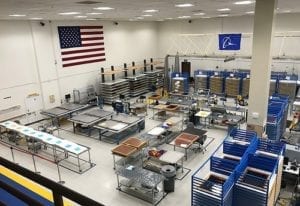 Paris, 12 January 2021. – More power: Boeing provides six more solar arrays to the International Space Station (ISS) to increase the orbiting laboratory's power supply, the company said.
The modification to Boeing's ISS sustainment contract with NASA calls for Boeing to deliver six additional solar arrays to NASA for installation beginning in 2021, Boeing said.
"The new 63-foot-by-20-foot (19-meter-by-6-meter) arrays will together produce more than 120 kilowatts of electricity from the sun's energy, enough to power more than 40 average U.S. homes", Boeing said. "Combined with the eight original, larger arrays, this advanced hardware will provide a 20 to 30 percent increase in power, helping to maximize the station's capabilities for years to come."
The arrays will provide ISS with electricity to sustain its systems and equipment, plus augment the electricity available to continue a wide variety of public and private experiments and research in the station's unique microgravity environment, Boeing said.
Spectrolab, a Boeing company based in Sylmar, California, produces the arrays' XTJ Prime solar cells, which will be "some of the most powerful ever launched into space". They are the same solar cells that power Boeing's CST-100 Starliner spacecraft in flight and while docked to the ISS. Spectrolab also produced the station's original solar cells, as well as the solar cells tested on the prototype, Boeing said.