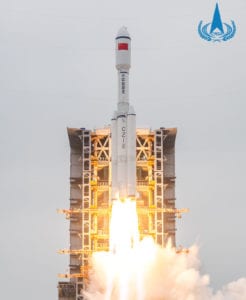 Paris, 24 December 2020. – The space propulsion company ThrustMe and the satellite service start-up Spacety launched Hisea-1, "the world's first commercial C-band small satellite SAR with a phased-array antenna", Paris-based ThrustMe said.
SAR stands for Synthetic Aperture Radar and "functions basically like a bat's echolocation system – they are much less effected by daylight and weather conditions compared to optical sensors", the company said.
The satellite was launched on the inaugural flight of the Chinese medium-lift Long March 8 rocket, from Wenchang, China. On board was ThrustMe's Iodine Electric Propulsion system to provide the satellite with crucial orbit maintenance, collision avoidance and de-orbiting at the end of its three years expected lifetime, ThrustMe said.
Luxembourg-based Spacety,  specialized on cube and smallsats, is planning a constellation of 56 small satellites.