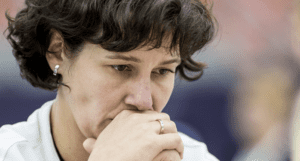 SpaceWatch.Global is pleased to present the 18th episode in our podcast series The Space Cafe Podcast: Dana Reizniece-Ozola, minister, satellite pioneer and chess grandmaster. The power of small nations.
Episode 018 features special guest Dana Reizniece-Ozola.
Dana Reizniece-Ozola is a unique personality. Not only did she hold the post of Latvian Minister of Economy and Finance, she also helped launch the first Latvian satellite into orbit, thus elevating her native country to the rank of a space nation. By the way, she also holds the rank of a chess grandmaster. More than one reason for the Space Cafe Podcast to take a closer look at her story.
The Space Cafe Podcast brings our signature brand of engaging and relevant content from across the global space economy to you via an exciting new format. Together with award winning Executive Producer, Markus Mooslechner (Terra Mater Factual Studios), our fortnightly podcast features highly interesting guests.
Each episode includes a review of  important topics, as well as guest appearances and deep commentary from expert panelists from across the space sector.
Thanks to our global distribution partner, BookWire, the podcast is available on all major podcast platforms.











Tune in here: