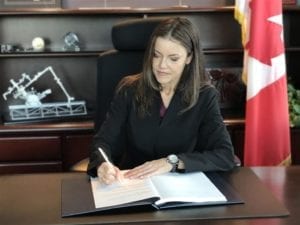 Luxembourg, 17 December 2020. – Canada will send an astronaut to the Moon in 2023, the Canadian Space Agency (CSA) announced.
Canada and the U.S. space agency NASA signed the Gateway Treaty, a historic agreement that confirms Canada's participation in the next major international collaboration in space exploration, the planned Lunar Gateway space station, the CSA said.
Under the Treaty, "a Canadian will be part of the Artemis II mission, the first crewed mission to the Moon since 1972. This mission, planned to launch in 2023, positions Canada to make history as the second country to have an astronaut travel to deep space and fly around the Moon. The Treaty also confirms a second flight for a Canadian astronaut to the Lunar Gateway", CSA announced.