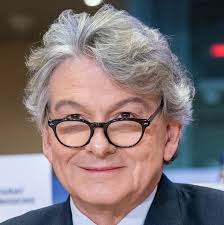 Paris, 9 December 2020. – Another LEO and more defense & security: The European Commissioner for Internal Market, Thierry Breton, is working on a European Low Earth Orbit satellite constellation.
"European broadband connectivity is neither ubiquitous nor robust enough to address our digital inequalities," Breton said at the European Space Week and on Twitter yesterday. "(M)ore than ever, we need high-speed internet all over Europe and reliable, secure and cost-effective communication capacity for both our governments and businesses." "My teams are already working to define the architecture of the space-based connectivity system to deliver service from 2025."
Breton told Reuters that the EU will "for the first time sign a 1 billion euro agreement with Arianespace with guaranteed orders to give it more visibility, in exchange for more innovation". For the first time, EU budget will be used to support new technology to launch rockets, including reusable ones, Breton told Reuters. "SpaceX has redefined the standards for launchers, so Ariane 6 is a necessary step, but not the ultimate aim: we must start thinking now about Ariane 7," Reuters quoted Breton.
Breton also said he would propose a €1 billion European Space Fund to boost startups. He also opted for Europe to "invest massively in quantum technologies", according to his speech text, and "asked my DGs to already work on the 6G".
The Commissioner also announced to strengthen the defense and security features of Galileo and Copernicus. "Yes, Galileo has a defence dimension. Yes, Copernicus can serve security missions," he said in his speech text. "And yes, this trend will be strengthened in the future. This is why we will progressively launch two new initiatives: A Space Situational Awareness (SSA) system to avoid collision and debris on key satellites. And let's be clear, we should see this project as the precursor of a European Space Traffic Management system". He added: "And a Governmental Satellite Communication (GovSatCom) initiative to provide Member States with reliable and secure satellite communication to support police, border protection, diplomatic corps or civil protection during crises."
Breton's announcement comes at a time where SpaceX's Starlink has already launched hundreds of LEO's and is rolling out the ground equipment to receive the broadband signal. Starlink was granted $855 million in federal subsidies last week.
The LEO company OneWeb recently went through Chapter 11 restructuring and is back on track to extend and commercialize its LEO constellation. OneWeb is owned by the UK government and the Indian Bharti Group.