by Jose Salgado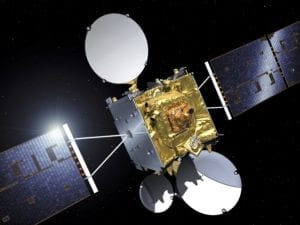 In 2018, global mobile data traffic amounted to 19.01 Exabytes per month and is expected to reach 77.5 Exabytes per month worldwide by 2022, according to Statista.
Mobile data use radio frequencies traveling through the electromagnetic spectrum, but this is a finite resource. For example, 5G technology uses a larger frequency with a smaller wavelength so it means that you can send more data but less far, this implies an increase in cell towers at an estimated cost of $250 billion.
While 5G might address the problem of speed, it does not solve the coverage problem. Currently, 41% of the world's population does not have access to the Internet. This is a major challenge that satellite free-space optical communication is trying to solve.
The European Space Agency created the European Data Relay System or EDRS, where the Sentinel constellation connects with two geostationary satellites and beams their data back to Earth in almost real-time. Without them, there would be delays of up to 90 minutes.
Meanwhile, NASA will launch in 2021 the Laser Communication Relay Demonstration (LCRD) project to fly aboard the ISS as NASA's first demonstration of a fully operational end-to-end laser communications system. It will provide the station with a state-of-the-art laser communications terminal with improved size, weight, power, and increase the bandwidth of 10 to 100 times more than radio frequency systems.
On the commercial side, the U.S. based company Xenesis will fly in late 2021 the Xen-Hub, an optical communication device that operates at more than 10GB/s. CEO, Mark LaPenna says: "Xenesis is the next evolution in global connectivity, the average going rate to transport 1 bit of data is .001 cent per bit and we represent a greater than 500% cost advantage over that. Instead of going to the end-user, we provide the incumbents with resources, and the financial advantage to connect the rest of the world."
Xenesis has already $300 million pre-sale hardware orders and an innovative business approach. "We do not manufacture anything, we partner, and every single company that we do business with shares in our revenue. The reason we partner with our vendors is that we have such a massive amount of margin that we feel it's important and imperative that if we are going to connect 3.5 billion people, we need to make sure that everybody is invested in our success" says Mark LaPenna.
Connecting the world using satellites seems very similar to Starlink and OneWeb's mission, how do you see Xenesis in this context? LaPenna answers: "We have a great competitive advantage on hardware and scalability cost, for every 150 satellites that those companies launch we only need one. However, we do not see them as competitors, they are looking to service the end-user and enterprise-level customers, and we are looking to support the companies that those companies compete with."
About Jose Salgado: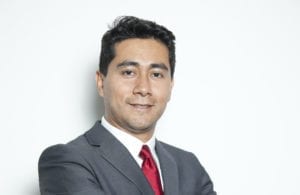 President of the Canadian Chamber in Italy, a Chamber 2.0 that focuses on innovation and new technologies. Honorary advisor to the Italian Intergovernmental committee for space. Columnist at COSMO magazine and Business Insider Mexico. Space Economy advisor.