by Ronald van der Breggen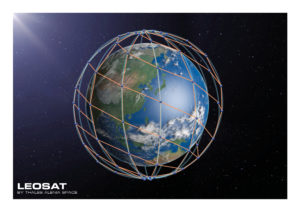 It is not easy to build a successful LEO satellite constellation. If there weren't already enough technical and regulatory challenges, there are many business and financing issues as well. These issues already caused LeoSat to fold, OneWeb to go into Chapter 11 and Telesat to be in 'announcement mode' for over three years now. Let's dig deeper into these issues and find out how some operators are trying to manage through them.
Customer or Investor – the impossible choice
One would think that a rock solid business case with ROIs that exceed those of GEO-DTH and backed by over 2 Billion in customer commitments – something that LeoSat announced in the summer of 2019 – would get investors enthusiastic to a point they comfortably put their money behind the project. Wrong. As much as the ROIs may be incredibly attractive, if the time investors have to part with their money exceeds the ten to twelve year mark, you have a problem. It blocks access to a large portion of investors that would rather accept half the ROI for projects lasting half as long. This ultimately yields the same results with less risk.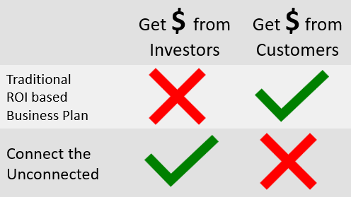 An effective remedy to this problem is to play the philanthropy card. Attracting investors with a plan to launch satellites that target rural and underprivileged communities with a promise to bring them online and provide equal access and opportunities, is a strategy that worked well for O3b and OneWeb. The business cases for these type satellite constellations are however far from solid. Making your revenues dependent on the purchasing power of rural and underprivileged communities, is asking for problems. Both companies dodged the bullet though. O3b was absorbed by SES, safely cushioned in a steady DTH revenue stream and OneWeb has been bought out of bankruptcy by the UK Government. As lifesaving as that may have been, additional revenue streams still need to be developed to ensure even basic viability.
So, it seems that either you have a great business case but no access to money, or you have access to money with a flawed business case. Neither will work. While marrying the two variants into a profitable business case with philanthropic aspects seems to be the obvious way out, the industry is trying other alternatives.
LEO as an App
During his address to employees to celebrate the opening of SpaceX' new office in Seattle, now some five years ago, Elon Musk said he expected more than half of his constellation's traffic to be long distance traffic and he gave an example of how routing data from Seattle to South Africa would be much faster using his satellites than when using fiber. This clearly suggested the use of intersatellite links (ISLs), but as we know: these have not been installed. In fairness, Elon also said he expected to launch new versions of his constellation every 5 years, so it may well be that on his next batch of 4000+ satellites for 2025 (wow!), the required ISLs will be available. He also compared his constellation to PCs as they are easy to replace, making it possible to test less and launch quicker. So, while he delivered on his promise to launch in the 2019-2020 timeframe, it seems that less testing and concessions to the design have been instrumental in achieving that goal. That is an unconventional approach but as one can see on the YouTube video, Elon seemed to be quite comfortable with that.

Launching a constellation this way reminds me of how App developers launch new products. They try to get version 1.0 out quickly, such to start building a customer base ahead of the competition and use the momentum and customer feedback to put out bug-fixes and new releases, while further increasing their installed base. It is all about timing and building momentum. With many satellites still to launch, Starlink/SpaceX have additional financing requirements in the future and building momentum and customer enthusiasm is an important ingredient to success. After all, when it is about raising money, taxi company Uber has already successfully demonstrated that in lieu of revenues and profits, the capital markets are perfectly fine accepting customer enthusiasm and market momentum as alternatives.  Similar enthusiasm and momentum around StarLink's launches will go a long way towards raising the additional funds they need and Elon Musk has already hinted on doing an IPO for Starlink in the near future.
Another company who seems to warm up to the 'Leo as an App' approach is OneWeb. They are clearly trying to build momentum by speculating about offering new GPS type services (GNSS) and announcing the continuation of their launches in December. It is also clear that the 1 Billion USD that got them out of Chapter 11 will only keep them going for so long, and new funding is required during the course of next year.
Raising money after the initial launch seems somewhat of an upside-down business model. Some may find that a little unsettling, reckless even, but many will argue that it is nothing but a smart, calculated risk. With enthusiasm for space clearly building, it makes good business sense to get in early, such to best position oneself for the upcoming opportunities.
LEO as a tool
Using satellites as a means to an end, as a tool towards a higher goal, is the bedrock of our industry. As a follow up, a new, steroid version has been introduced where the higher goal is all about the money.
When the first satellites were launched in the 1960s, it was not however not about money, it was about pushing the boundaries of technology. When Intelsat – the first satellite operator – was set up as an intergovernmental organization in 1964, its primary focus was not on making money either, it was  to be the vehicle through which participating countries could grow their economies and increase their GDP. Also today there are many national and military satellite systems where it is not about the profits, but solely about the data and information produced by these satellites.

Now enter Amazon who reported 280 Billion dollars in revenues for 2019. While 'normal' satellite companies are struggling to raise capital, Amazon can simply use a week's revenues to build and launch an entire LEO constellation. This is exactly what they plan to do with Project Kuiper. When ready, they will own a network through which literally everybody on earth has access to Amazon's webshop and through which global businesses can send their data to AWS' datacenters safely and securely. If the resulting increase in revenues is only as little as a few percent, their investment will be paid for within matter of months. Starlink recently announced to develop monthly plans for their internet access service, starting at 99 USD/m. Something tells me that Amazon is not going to even bother with that. They may well offer their services as part of a packaged deal for free. When that happens, it's back to the drawing board for all other LEO operators to rewrite their business plans.
LEO as a patience tester
Canadian Telesat put in their application for LEO spectrum early February 2015. Their first early bird was ordered well over a year later in May 2016 and launched in November of 2017, again well over a year later. Those are big brackets of time, and since then three years have passed without any further launches, satellite orders or vendor announcements. Clearly our patience is being tested. Further examples can be found among startups: LaserLight announced their constellation as early as 2012, despite several press releases on partnerships and a patent, no launches have been scheduled as of yet. The same is true for Kleo Connect out of Germany and various Chinese LEO ventures that – while they may have launched one or two early birds – are yet (to announce) the launch of their constellation's first satellite.

For those that now want to dismiss these companies as 'failing' because they can't execute their plans… Not so fast! There is another perfectly acceptable explanation. For that to understand we need to take a look at ViaSat. Known for being a GEO shop and on the record for downplaying the advantages of LEO, they recently announced to venture into LEO after all. Reason for this announcement is the 20 Billion-dollar RDOF fund announced by the US Government. In a letter to their shareholders, ViaSat announced their LEO constellation to be "optimized for RDOF". To the trained ear this will very much sound like the whole thing is conditioned upon getting the required funds out of RDOF. No funds? No LEO!
Announcing plans to launch a constellation early and to then prepare the organization for immediate execution when the right funds are available, is not a bad strategy. Particularly in the context of the recent failures in the industry, it pays off to be prudent. Successful positioning and carefully timing activities is important and will go a long way towards achieving success.
In conclusion
With the Billions of dollars going around, we can all agree that LEO is happening. Traditional approaches to launching a LEO business have however failed and new strategies are now in play. Speaking in casino terms: Starlink and OneWeb are rolling the dice on future money becoming available. Amazon with its deep pockets is feeling lucky and is placing big bets on the big boys' table, while Telesat, ViaSat and others are sitting on their casino tokens, ready to place their bets when the opportunity is right.
Rien ne va plus!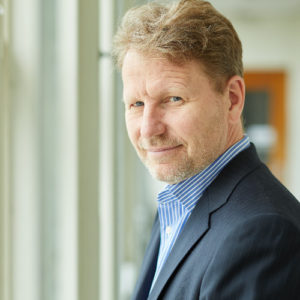 Ronald van der Breggen, Owner of Route206, has more than 20 years of experience in the telecom and satellite sectors. A native of the Netherlands, van der Breggen began his telecom career at Dutch Telecom incumbent KPN, rising to the position of VP IP Services. He then joined SES, one of the world's leading satellite operators as Vice President Customer Account Management. From 2015 to 2019 he served as Chief Commercial Officer of LeoSat, where under his leadership the company secured $2 billion in pre-launch commitments. With Route206, Ronald continues to help companies with brilliant technology to achieve commercial success through his decades of experience, structured approach and large industry network. Ronald holds a Bachelor's degree in Business Administration from Nijenrode University as well as a Masters in Business Telecommunications from the Technical University of Delft, both in the Netherlands.
The article was published first on Linkedin here.