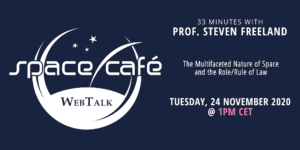 Join SpaceWatch.Global for an interesting and informative Space Café WebTalk featuring Prof. Steven Freeland, Professor of International Law, Western Sydney University, Sydney, Australia. This event will take place on 24 November 2020 at 1:00 pm CET.
The Multifaceted Nature of Space and the Role / Rule of Law
Prof. Steven Freeland will discuss the following topics:
Australia's initiatives on the commercial space side,
National law – what are the important issues to consider for each country and why?,
International law – how the initiatives of one or several countries can be an input to broader discussions and why we need broad 'buy in' on the really big issues,
Civil Society – how industry, academia and broader civil society have important voices on space in many ways?
This Space Café WebTalk will be hosted by Torsten Kriening, publisher of SpaceWatch.Global. The audience will have an opportunity to ask questions in dialogue with Prof. Freeland.
This Space Café WebTalk will be conducted in English. Reserve your place today.