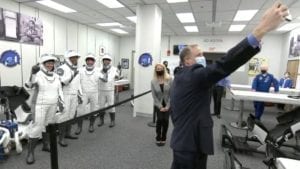 Paris, 16 November der 2020. – Elon Musk's SpaceX has successfully launched a Falcon 9 with its Crew Dragon spacecraft Resilience and four astronauts on board to the International Space Station (ISS).
NASA confirmed the spectacular lift-off from SpaceX's Cape Canaveral launch pad on Sunday night local time.
The so-called Crew-1 mission is the first Falcon 9 launch with a full crew on board. It is largely perceived as a historic milestone since this SpaceX flight is the first private ISS mission certified by NASA to transport astronauts to and from space.
Crew Dragon Resilience is carrying four astronauts, Mike Hopkins, Victor Glover, Shannon Walker and Japanese astronaut Soichi Noguchi. They are headed for the ISS where they are expected to dock on Monday evening. They will spend  six months on board the ISS, conducting microgravity and other scientific research and studies.