by Blaine Curcio and Jean Deville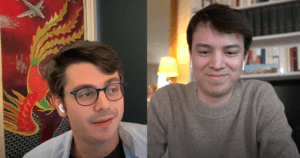 As part of the partnership between SpaceWatch.Global and Orbital Gateway Consulting we have been granted permission to publish selected articles and texts. We are pleased to present "Dongfang Hour Weekly Aerospace News Roundup, 19-25 Oct".
Special 6th Annual CCAF Edition (Part 1 of 2)
Hello and welcome to another episode of the Dongfang Hour China Aerospace News Roundup. This week we bring you part 1 of our Special Edition China Commercial Aerospace Forum Roundup. This week, we bring you stories of Ukraine and the BRI, but first, we begin with a roundup of the 6th Annual China Commercial Aerospace Forum (CCAF), held last week in Wuhan and hosted by CASIC.
This year, the event was a hybrid format, both in person and online. The info from the event was primarily two types: 1) a huge data dump by all of CASIC's space project subsidiaries, including informative speeches by Xingyun and Hongyun, and local media interviews with both in addition to Expace, and 2) lots of updates from commercial companies. It's a huge amount of information, so we have decided to break it up into two parts. This week we will discuss CASIC's updates from the CCAF, as well as a couple of other weekly news items involving Ukraine and BRI, and next week we will summarize the commercial space updates from CCAF. With that being said, welcome to the Dongfang Hour.
Part 1: Context of CCAF/CASIC/Wuhan
Currently, the Chinese space industry is being commercialized/opened up primarily by two types of companies. This includes:
Commercial space companies, that have relatively little political power, are starting from zero, but are fast, nimble, and can do things that the SOEs cannot. They also are being able to attract good talent and focus on niche areas.
SOEs from not space. This is where CASIC comes in. As a company that has specialized in missiles and other defense/military technology–an industry that we have mentioned before is not so elastic in its demand–CASIC needs to look elsewhere for growth. One of the main areas that it is concentrating on–with probably several billion in investment–is commercial space, specifically launch (Expace), constellations (Xingyun, Hongyun), and satellite manufacturing (Space Engineering Development Company).
In their move into commercial space, CASIC has concentrated their activities in Wuhan. Why Wuhan as opposed to some traditional space hub like Beijing? Because while Beijing is big, Wuhan is relatively less big, but still developed and still home to several good universities. Also, it takes powerful friends (like the government of a province with 60 million people and a GDP the size of Thailand or Belgium) to open an industry. CASIC has worked closely with the government in developing the Wuhan Aerospace Industrial Base.
Government brings influence and resources, CASIC brings influence and resources, private companies bring innovation and their own type of resources. The idea is to create a sort of ecosystem whereby the main shareholders are all the state, but where others can still do innovative things that help the overall system.
CASIC's relationship with the local government shows itself every year in the first half-day forum of the conference, whereby all of China's traditional space industry gets a short speaking slot (CASC, CETC, CNSA, CASIC, etc.), followed by a tour of the conference with the Chairman of CASIC, the Mayor of Wuhan, and the Vice Governor of Hubei Province. This was the case this year too, with the first morning involving the usual speeches from high-level company representatives and officials. While these speeches tend to be relatively dry, they were only the first half-day, with the rest of the conference (another 1.5 days) being full of several really interesting sub-fora. As noted, today we will discuss updates from CASIC, while next week we will discuss updates from commercial space companies at the 6th CCAF.
Part 2: Update on CASIC's constellations
CASIC has plans for two constellations, namely Xingyun and Hongyun. The two plans would be largely vertically integrated insofar as CASIC plans to build their own rockets and satellites. During the 6th CCAF, CASIC re-affirmed plans for 50x rockets and 100-200 satellites per year production capacity at the Wuhan Aerospace Industrial Base.
Xingyun: Xingyun is a narrowband constellation being developed by CASIC and its nominally commercial subsidiary, LEOBit Technologies. The project is based in Wuhan, and aims to build out a constellation to connect CASIC's burgeoning industrial IoT infrastructure.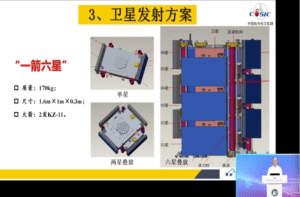 The 6th CCAF saw a presentation from Xingyun Program Chief designer Fan Wei, who presented a useful reminder of Xingyun's timeline. Constellation in 3 steps: alpha – beta – gamma (with timeline of 2020, 2021, and 2023, respectively).
Alpha is the current stage, with a handful of test satellites. A lot of time invested in the downstream applications & terminals.
Beta: 12 satellites in 2 orbital planes. ISL for satellites in the same orbit. This is combined with the construction of ground stations in South Africa and Egypt for international coverage. Objective of having a revisit rate of max 30 mins for any location on Earth. Launched by 2 x KZ-11 with 6 satellites each (launch configuration shown in the first photo below)
Gamma: 80 satellites for a global coverage in 2023
It was clear from Mr. Fan, and later his colleague Mr. Du Li's talk, that Leobit/Xingyun has been spending a lot of time & work on terminals & downstream applications. The two speakers devoted a combined ~15 minutes to talking about Xingyun's various application development plans, including:
Development of terminals for many different applications, and doing experiments (containers, meteorology, …).
Also explains the relative "slow" pace of Xingyun (compared to Starlink, OneWeb, others), but makes sense when you take into account the lifespan of a LEO satellite and the time necessary to build a viable business case
Also, impressive images from Xingyun/Leobit of their facilities to test satellites (EMC chamber, thermovacuum chamber, vibration platforms…)
Mr. Du's talk also provided the nugget of information that within the 14th Five-Year Plan (i.e. by 2025), Xingyun hopes to have roughly 200 satellites in orbit.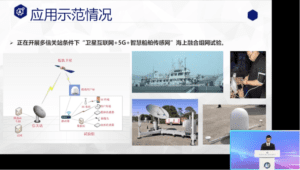 Hongyun: Hongyun is a broadband constellation being developed by CASIC, with Vice General Manager Mr. Wang Chong providing an update on the relatively less public constellation. Wang's speech, which was sort of the "keynote" of a half-day Satellite Internet sub-forum, started by analyzing foreign constellations, discussing technical characteristics of Hongyun. Wang then moved into discussion on the series of tests that CASIC has been doing with the in-orbit Hongyun test satellite, having been launched in late 2018.
Also emphasized in Mr. Wang's talk was the concept of "通导遥一体化", or the integration of communications, satnav, and EO. Similar to Mr. Du from Xingyun, Mr. Wang showed information from a battery of tests conducted by the Hongyun satellite. Overall, not as much new information available about Hongyun, but this is consistent with Hongyun historically—they have tended to be less public. Interestingly, while there has been increased speculation within China about consolidation among the state-owned constellations, with Hongyun most likely to be on the chopping block, there was no mention of larger constellations (like the recently-leaked GW).
Information on CASIC's commercial launch spinoff Expace
Expace reiterated plans for production of ~50 rockets per year at WAIB by an undefined timeline. The company mentioned several times in an interview with local news the phrase "批量化", i.e. "batch production", which seems distinct from mass manufacturing  (大批量话). They noted that Expace has achieved 批量化 in many of their processes, which has enabled larger production capacity. To now, Expace has been one of the more successful "commercial" launch companies in China, having launched a handful of Kuaizhou-1A rockets successfully, and having tried (and failed) once to launch the Kuaizhou-11 medium-lift rocket.
Other News Updates
China and Ukraine Deal
China and Ukraine sign a long-term cooperation agreement for space, encompassing 69 projects totaling >$70M over the period of 2021-2025. The projects include a joint space research laboratory (implicitly onboard the CLMSS), and stronger information exchanges between the two countries.
China has been pushing into countries like Ukraine for some time. Ukraine has a lot of technological knowhow that could (presumably) be acquired at relatively low prices, and with relatively less political resistance (this is not to say the Ukrainians would be pushovers–not likely ). That being the case, we expect to see China to continue to do business like this in Ukraine. The agreement comes after Ukraine's Vice Prime Minister for EU and Euro-Atlantic Integration, Dmytro Kuleba, said in early 2020 that Ukraine needed to decrease  trade barriers with China and enhance cooperation, including, he mentioned at the time, in the domain of space.
Separately worth noting although not directly related to the recent deal, an analysis by a Ukrainian think tank in 2016 found that Ukraine had, at that time, 21 contracts from China related to space, worth a total of >$67M.
CGWIC BRI Satcom Report
Earlier this week, CGWIC released a report (borrowing heavily from Euroconsult data with proper and very kind citation) about opportunities for communications satellites in Belt and Road regions.
As the primary international business unit of CASC, CGWIC certainly has an incentive to make the international market near China seem to be booming–this makes it easier for countries along the BRI to justify buying communications satellites (from CGWIC). The figures in the report seem broadly plausible if not slightly ambitious, though verticals such as in-flight connectivity may raise eyebrows due to the recent Covid impact on the sector.
Thanks for joining, and be sure to join next week for Part 2 of the CCAF roundup. Separately, be on the lookout for a special interview with Cao Meng of Expace next week, and please send us any questions for our extra special guest coming up in November, Mr. Kevin XU from Landspace Technologies. See you next time!
---
Follow DongFang Hour on Twitter @DongFangHour , Youtube or on https://dongfanghour.com
Blaine Curcio has spent the past 10 years at the intersection of China and the space sector. Blaine has spent most of the past decade in China, including Hong Kong, Shenzhen, and Beijing, working as a consultant and analyst covering the space/satcom sector for companies including Euroconsult and Orbital Gateway Consulting. When not talking about China space, Blaine can be found reading about economics/finance, exploring cities, and taking photos.
Jean Deville  is a graduate from ISAE, where he studied aerospace engineering and specialized in fluid dynamics. A long-time aerospace enthusiast and China watcher, Jean was previously based in Toulouse and Shenzhen, and is currently working in the aviation industry between Paris and Shanghai. He also writes on a regular basis in the China Aerospace Blog. Hobbies include hiking, astrophotography, plane spotting, as well as a soft spot for Hakka food and (some) Ningxia wines.