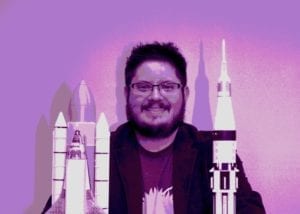 SpaceWatch.Global is pleased to present the 14th episode in our podcast series The Space Cafe Podcast: Dr. James Schwartz – we need to rethink everything 
Episode 014 features special guest Dr. James Schwartz
Admittedly, Elons rocket launches and landings are fascinating.  They have a magical attraction. The same applies, of course, to future missions like Artemis. Seeing people on the moon again has its charm. But, do we really have to do all this? What's the point in going to space? To ask such unpleasant questions is the job of the passionate space nerd and space philosopher James Schwartz. He puts his finger on those spots that others ignore. Now and then fascinating ideas surface in this process.
The Space Cafe Podcast brings our signature brand of engaging and relevant content from across the global space economy to you via an exciting new format. Together with award winning Executive Producer, Markus Mooslechner (Terra Mater Factual Studios), our fortnightly podcast features highly interesting guests.
Each episode includes a review of  important topics, as well as guest appearances and deep commentary from expert panelists from across the space sector.
Thanks to our global distribution partner, BookWire, the podcast is available on all major podcast platforms.











Tune in here