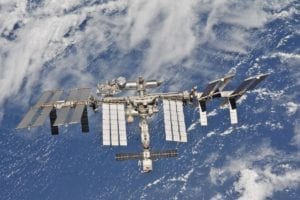 Berlin, 28 September 2020. – The International Space Station (ISS) is an important laboratory for scientific and high-tech research. But a different payload on an upcoming ISS resupply mission is now giving the space station an additional commercial touch: a pack of skincare products that ISS astronauts will picture against the spectacular panoramic view from the space station.
Estée Lauder struck a deal with NASA to launch a well-known skincare product on the Cygnus spacecraft atop an Antares rocket on Northrop Grumman's 14th resupply mission currently scheduled for early October. The cosmetic product "will be photographed in the space station's iconic cupola window to create images for use on Estée Lauder's social media platforms," the company said.
The U.S. cosmetics group is spending $128,000 for NASA to fly ten bottles of serum to the ISS, Bloomberg reported. With this, ISS is entering the commercial sphere. "As a beauty industry leader in science and innovation, Estée Lauder is the first-ever beauty brand to participate in NASA's efforts to enable business opportunities on the International Space Station," Estée Lauder said.
"NASA is opening the International Space Station to business as part of the agency's efforts to enable a robust low-Earth orbit economy," said Phil McAlister, Director of Commercial Spaceflight Development at NASA Headquarters. "Agreements like these directly support NASA's broad strategy to facilitate the commercialization of low-Earth orbit by U.S. entities by demonstrating new markets utilizing the unique environment of space."