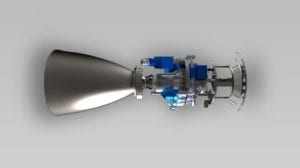 Munich/London/Paris, 8 September 2020. – The Munich-based start-up Isar Aerospace started production of its Spectrum rocket as the "first privately built rocket" developed in Germany, the Financial Times (FT) reported on Monday.
"Germany will join the commercial space race", FT said, "in an attempt to gain a foothold in the growing small-satellite market".
Isar Aerospace in Ottobrunn near Munich develops and manufacturers Spectrum, a two-stage launch vehicle that is specifically designed for satellite constellation deployment. Payload capabilities of up to 1'000kg to low-earth orbit and a multi-ignition second stage engine enable flexible access to space for major satellite systems.
The fully in-house developed Aquila engine enables highest performance while minimizing system complexity and production costs, Isar Aerospace says. It uses light hydrocarbons and liquid oxygen, drastically reducing environmental impact compared to common propellants. Spectrum's second stage is able to inject payloads directly into orbit. Having multi-ignition capability, satellite constellations can be deployed without the need for an additional kick stage. The cryogenic stage features a single Aquila VAC engine.
Investors in Isar Aerospace are Vito Ventures, Unternehmertum Venture Capital (UVC), Bulent Altan, Airbus Ventures and Earlybird, according to the Isar Aerospace website. The venture is supported, amongst others, by ESA Business Incubation Centre (BIC) Bavaria.