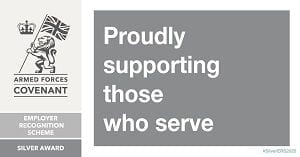 Inmarsat has been honored by the UK Ministry of Defence with a prestigious Silver Award in this year's Defence Employer Recognition Scheme, in recognition of our support for the armed forces community. In order to be considered for the award, recipients must be able to actively demonstrate that they treat service personnel and the wider armed forces community fairly during recruiting and selection processes, actively ensure that their workforce is aware of their positive policies towards defense people issues and demonstrate support to mobilizations or have a framework in place by providing at least five days' additional special leave.
Defence community
Commenting on the awards, Johnny Mercer MP, Minister for Defense People and Veterans said, "I am grateful for the positive attitude and flexible policies these organisations have adopted towards the defense community, which is testament to the fantastic contribution our serving personnel, veterans and their families can make to any organisation."
"Inmarsat has a 40 year heritage working with governments around the world to provide secure, reliable satellite communications services for the military and aid and NGO community. In 2018 we signaled our commitment to being a 'forces friendly' employer too by signing the Armed Forces Covenant, acknowledging the value serving personnel, reservists, veterans and military families bring to our business. The Silver ERS 2020 Award indicates our continued support to the armed forces community."
Employment of veterans
Inmarsat Enterprise President and veteran Mike Carter said, "As a company Inmarsat has demonstrated its commitment to the armed forces through our technology, actively used by many defense forces globally. But we also appreciate and value the diversity that they bring to our business through the employment of veterans, reservists and military families.
"We actively support the employment of veterans, young and old, service spouses and partners; as well as our employees who are members of the reserve and cadet forces; plus national and local cadet units, and to continue to directly contribute to a range of service-linked activities and charities globally."