By Raphael Roettgen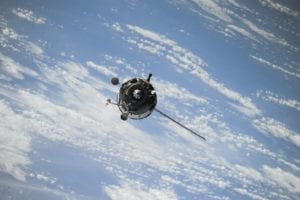 With approximately US$56 million of space-related funding rounds, July was slightly stronger than June 2020, but still on the weak side, and lacking any large rounds (except as noted below). On the positive side, the monthly rounds represent a good cross-section of geographies and subsectors.
SpaceX is in the process of raising US$1 billion of new funds, at a valuation of US$ 44 billion, up from US$36 billion earlier this year. We have not yet seen any filings related to this round but are anecdotally aware that it should close very soon.
July has also seen continued activity on the deal front, including the announcement of the winners of OneWeb's Chapter 11 auction process (a consortium of Bharti Global and the UK Government, now also joined by Hughes Network Systems) as well as the acquisition of Pioneer Astronautics by Voyager Space Holdings.
| | | | | |
| --- | --- | --- | --- | --- |
| Company | US$m | Country | Subsector | Investors |
| Guoxing Aerospace | 21.4 | China | Satcomm | Aplus Capital, Galaxy Holding Group, Shenzhen Capital Group, Xinjiang Communications Construction Group, New World Strategic Investment |
| Exotrail | 13.0 | France | Spacecraft components (electric propulsion) | 360 Capital Partners, Bpifrance, Innovacom, IRDI SORIDEC Gestion, IXO Private Equity, Karista, NCI Waterstart, Turenne Capital |
| Transcelestial Technologies | 9.6 | Singapore | Satcomm | Airbus Ventures, Ajay Shah, CAP Vista, Charlie Songhurst, EDBI, Entrepreneur First, Partech, Seeds Capital, Tekton Ventures, Wavemaker Partners |
| Hydrosat | 4.3 | U.S. | Remote sensing | (Grant) |
| Kleos Space | 2.2 | Luxembourg / US / UK | Remote sensing | entities controlled by Janet Cameron |
| Orbex | 1.9 | UK | Launch | Highlands and Islands Enterprise (HIE) |
| Blue Sky Analytics | 1.2 | India | Remote sensing | BEENEXT, Rainmatter Capital, Stanford Angels and Entrepreneurs |
| HyImpulse Technologies | 0.6 | Germany | Launch | DLR (grant) |
| Isar Aerospace | 0.6 | Germany | Launch | DLR (grant) |
| Rocket Factory Augsburg | 0.6 | Germany | Launch | DLR (grant) |
| aXenic | 0.5 | UK | Satcomm (components) | EU Horizon 2020 (grant) |
| Horizon Technologies | 0.1 | UK | Remote sensing | Innovate UK (Grant) |
| Urban Sky | N/A | U.S. | Remote sensing (strat. balloons) | New Stack Ventures |
| PowerMarket | N/A | UK | Remote sensing | QVentures |